Self-Paced Digital Learning
Our self-paced digital courses equip participants with an understanding of key technical and analytic concepts.
We have applied our 25+ years experience in designing effective credit and risk analysis training to create digital learning that is structured, focused on key topics and relevant to the learner.
The digital courses can stand alone as a self-paced study course or form part of a blended learning programme and offer content relevant to those working in relationship management, risk functions or as analysts.
The coursework has given me a better understanding of the subject matter and given me more confidence when assessing entities. It also has prompted a more in-depth analysis that scrutinizes financial data beyond what is purely contained in the key ratios. – Credit Risk Analyst
They have made accessing meaningful and practically useful information in accounts accessible to me as a non-accounting trained professional. – Insurance Underwriter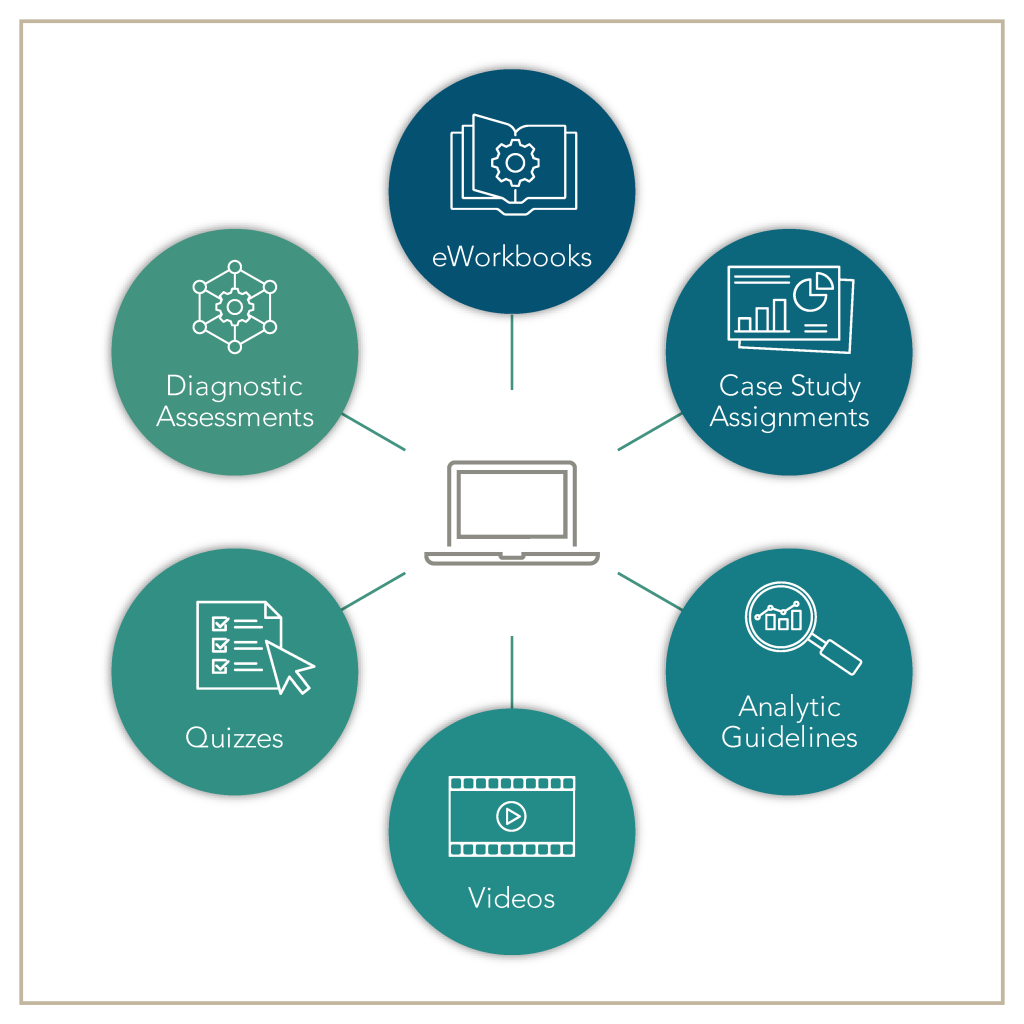 Digital Learning Topics
Corporate and Commercial Credit
Fundamentals
Accounting foundations
Industry risks
3Rs – Lending rationales
Valuations
Financial Statement Analysis
Business dynamics
Sales and profitability
Financial risks
Bank Analysis
Fundamentals
Bank business models
Core products
Key risks
Introduction to accounting
Key performance measures
Financial Statement Analysis
Accounting principles
Capital adequacy
Asset quality
Earnings
Liquidity
Sensitivity to market risk
Insurance Analysis
Business models
General insurance
Life insurance
Reinsurance
Accounting
Financial analysis
Funds and Asset Managers
Funds and asset manager business models
Accounting for funds
Funds: risks and regulations
Sovereign and Public Sector
Public sector business models
Sovereign analysis
Development organisation financial strength
Non-Bank Financial Institutions
Finance and leasing companies
Brokers and broker dealers
Regulatory Drivers
Basel III
Bank capital management
Liquidity and funding
IFRS 9
Resolution
Your Business Explained
A customised eLearning solution
Key drivers of success
How banks make money
Economic and competitive drivers
Financial strength benchmarked to peers
Enterprise-Wide Risk Management
Risk in context
Country risk
Non-financial risk
Market risk
Liquidity risk
Credit and counterparty risk
Product Solutions
Risk profile and business opportunities
Loans
Asset finance
Securities
Derivatives applications
Key Features
Interactive eWorkbooks
The eWorkbooks are interactive modules that form the core of our digital learning experience:
Concepts are presented in a logical and structured manner.
Real-life examples demonstrate practical application of concepts.
Interactive tools provide an engaging and active learning experience.
Quizzes and exercises reinforce key learning points.
Valuable resources for future reference.
Assessment Tools
Diagnostic assessments measure prior knowledge and identify areas where participants need to focus their time. They also allow experienced participants to "test out" by recognising their existing expertise.
Formative exercises and quizzes are included at regular points in the eWorkbooks, helping participants check and apply what they are learning.
End-of-module multiple choice assessments evaluate learning and understanding on completion of a module. They can be used for self-assessment or as part of formal certification or grading.
User-friendly LMS
An intuitive learner dashboard provides easy access to courses and helps learners monitor their progress.
All content is in one place in structured learning paths.
Suite of reports to track learner progression, assessment results, survey responses and training histories.
Our administration team supports users with their queries and provides regular reminders and nudges.